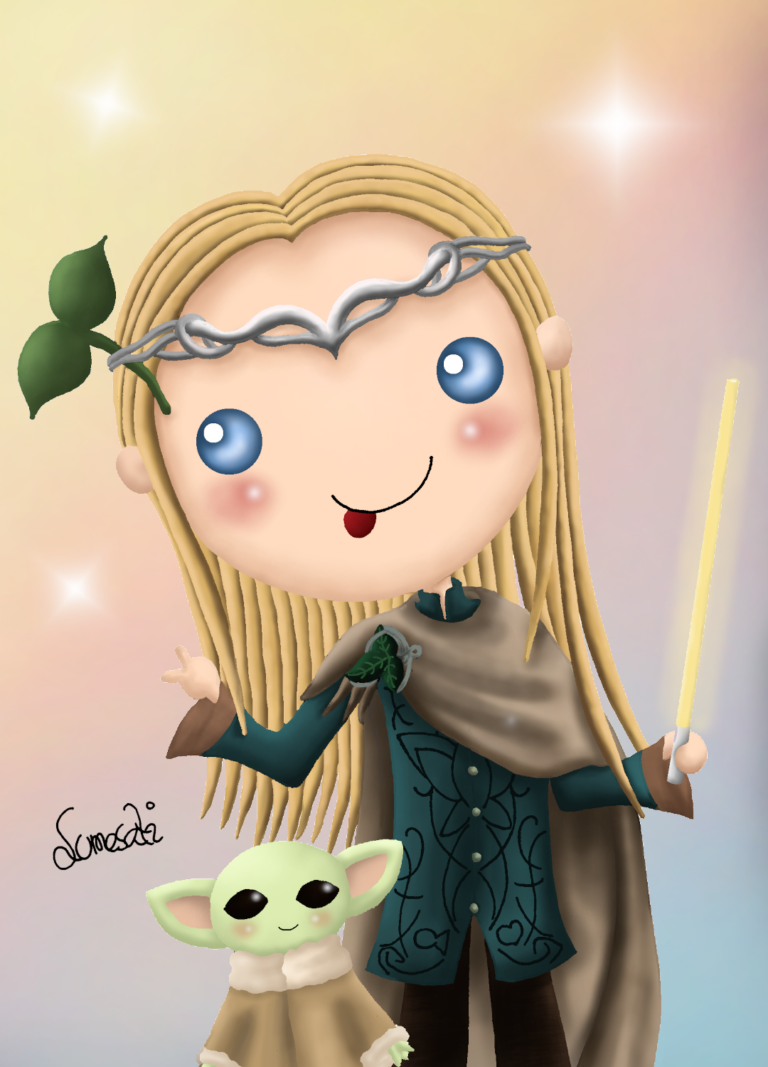 Name: Ati
Age: 35
Origin: Berlin, Germany
Me: Bookworm, vegan, fangirl, dreamer, pansexual, shipper, hobby artist
Art: Picturing life, other worlds and what I love
Style: Childlike, colourful, often simplified, fantasy influenced
Dream: Living in a beautiful place near a colourful, vibrant cosmopolitan city~
Secret dreams: Finding my other half, working in the space sector
Wishes: Meeting Hugo Weaving, seeing New York/Sydney/Vancouver; returning to Berlin~
Goal/Hope: The end of animal suffering~
Motto: Nankurunaisa – Everything will be fine
To me, art is a creative way to express myself and everything that matters to me. I don't have any special drawing talent but my own unique style and that's just fine. Having fun while drawing is most important to me. Currently, I am still in a kind of transition and pursuing a new art style, which is only slightly modified from my old one but with what feels like huge different-looking results. It is important to me to improve myself within my own limited range of skills and to one day reach a level I am satisfied with. I admire all beautiful things, especially the art and design of the digital world like TV series, movies and video games. I wish I was good enough for this entertainment world, but I am not. Nevertheless, I am glad that my artistic vein enabled me to develop my graphic design skills over the years, allowing me to work in this field of creating beautiful things to a somewhat quite satisfying degree.
I would say that I am not a very normal person but a good-natured one. Some bad stuff happened to me and made me the way I am, hardly trusting anyone, being a loner, always struggling with life and maybe a bit crazy. However, I am still an okay-ish dude who likes to communicate with others and is open-minded. I am a big city girl, the biggest nerd you can imagine, a fangirl of many things and a dedicated shipper. Currently, I am very much into `The Witcher` universe and Radskier, reading every new fan fiction, listening to all the audiobooks, doing art and so on. Also, I am very much into everything related to Japan, Tolkien, Star Wars, Star Trek as well as astronomy & space, searching for people I can share my interests with. Feel free to interact with me if you are the same, I would love it. <3
A very important fact about me is that I am a vegan. Being a herbivore became an essential part of my very existence I do live thoroughly and with all my heart. Therefore I am most comfortable when being around other vegans who value our animal earthlings the same way I do and mean them no harm. 

Books: The Black Magician Trilogy, A Court of Thornes and Roses Trilogy, An Ember in the Ashes Quartet, Federleicht Series, The Folk of the Air Series, The Tairen Soul Books, Incarnate Trilogy, Angelus Saga
Authors: Marah Woolf, J. R. R. Tolkien
Movies: The Lord of the Rings, Pride and Prejudice, V for Vendetta 
TV Series: The X Files, Fringe, Star Trek DS9, The Big Bang Theory, The Mandalorian
Actors: Hugo Weaving <3, Lee Pace 
Anime: Clannad, Yu-Gi-Oh!, Hotarubi no mori e, Journey to Agartha, Somali to mori no kamisama, Mahou tsukai no yome, Tate no Yūsha no Nariagari, Itazura na kiss
Animation Studios: Studio Ghibli, Pixar Animation Studios
Manga: Lumen Lunae, Fruits Basket, Shinshi Doumei Cross, Fullmoon wo Sagashite, Nana

Artist: Demelsa Haughton
Fictional Characters: Atemu, Elrond, Luke Skywalker, Leonard 'Bones' McCoy, Din Djarin, Radovid (Netflix version), Iwatani Naofumi, Walter Bishop, Dr. Dr. Sheldon Lee Cooper, Kathryn Janeway, Rhysand (Nightcourt), V, Cassian (Federleicht Series), June Osborne, Jack Bristow, Ami Mizuno / Sailor Mercury, Luna Lovegood, Shizuo Heiwajima, Akkarin (High Lord), Thranduil, Elim Garak, Magnus Bane
Animals: Cats, Iguana / Batagame / Geckos (saurians), snails with houses~ 
Musicians: Runrig 
Songs: Destiny / Sadame (X 1999), Intervention (Arcade Fire), I Believe in a Thing Called Love, Laid, This Land is your Land 
Countries: Japan, Scotland, USA 
Food: Pizza, Pasta, Beyond Meat burger, mushrooms

Genres: Fantasy, Romantasy, Dystopia, Sci-Fi 
Discipline: Astronomy (=secret love) 
Youtuber / Twitcher: Gronkh 
Games: The Elder Scrolls Online, Ori and the blind Forest, Minecraft / Life in the Woods, Ark 
Shippings: Elronduil, Radskier, DinLuke, Prideshipping, TOS Spones, Garashir, J/C, Rumbelle, Malec, Scully/Mulder, Vevey
Fanfiction: A Thousand Years and More~
Idol: Moby~ 
Quote: "Because the world isn't as cruel as you take it to be." – Celty Sturluson